MAKING A FULLEFFECT IN YOUR COMMUNITY
MISSION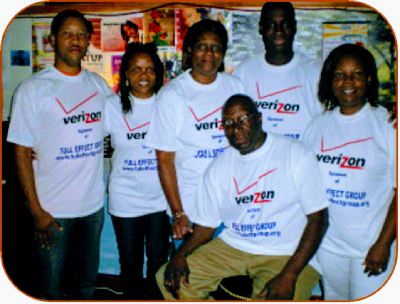 In 2010, Full Effect Group was established as a 501 c3 non-profit organization with the purpose of providing a safe haven where inner-city youth participate in a comprehensive program of journalism. We supplied the necessary resources to local schools for training students interested in gaining skills, knowledge, and firsthand experience in the field of broadcasting, communication, and other related areas of expertise. This journalism program has been a recipient of the Verizon Foundation Grant Award. As an USTA grant recipient of Grow The Game of Tennis, allowed Mingo Tennis to offer activations in NYCHA.
In addition to training individuals to develop or improve skills as amateur radio operators, we are now seeing kids enjoy the game of tennis. As they hit forehands and backhands, yelling "nice shot" from across the net, they are developing well-stroked balls, and more importantly, good sportsmanship and social skills such as learning how to shake hands cordially at the end of a match. This provides kids with a sense of respect
INTERNATIONAL SUPPORT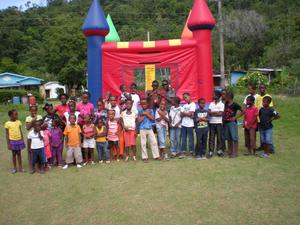 The objective of Craig Mill Community Fun Day is to inform and educate youth in Craig Mill on internet awareness, the importance of staying in school and being a role model in your community. We have a five year goal of having 20 to 30 kids in the Full Effect program.

Providing three computers in a center, where kids ages 5-13 can utilize for weekly use.
In addition, Full Effect Group recognized individuals in Craig Mill for their work promoting success among youth through education and mentoring. Donation helped support the construction project of Craig Mill Basic School.
ANNUAL EVENTS
Full Effect Group Community Day
This fun fill day of events will feature broadcasting education seminars, spoken word, live music & performances, giveaways and networking. The objective of Brooklyn Community Fun Day 2021 is to inform and educate the individuals on internet radio broadcasting, the importance of staying in school and being role models within the communities. Donations and profits from the event will go towards Full Effect Group future Community Day events.

East Side Park Tennis Fun Day
The goal of the Kick-off Tennis Court Resurfacing Fund is to secure donations and sponsors to assist in the repair of Eastside Park Tennis Courts. While all city courts are in disrepair we stand in solidarity with all athletes and residents in Paterson seeking to improve recreational facilities for all players, at risk, underserved, yearning to just enjoy sports and recreation in their own community.

Sickle A Cell Fundraiser
This forum is made possible through SCTPN's community outreach committee. One of the main focuses of this committee is to provide non-medical support services to individuals living with sickle cell disease that will empower them and improve their quality of life.